CHARITY TOTE BAGS
Ukraine Appeal
Thank you to everyone who purchased our charity tote bags.
Mr Revell stated: Thank you to everyone who purchased our charity tote bags. We ended up ordering 400 bags! You managed to raise £1,195 in total for ISSUE (Ilkley and Surrounds Supporting Ukrainian Evacuees). You humbled us with your generosity and more than doubled last year's total.  The charity sends their gratitude and promise that our donation will be put to good use for Christmas supplies, school essentials and grants for families finding their own accommodation. 
Our fabulous artist, Katie W, was awarded the Headteacher's Award for her work on the project before Christmas.
Please see the original article below
---
---
9LIR are selling Ukrainian themed tote bags to raise vital funds for ISSUE (Ilkley & Surrounds Supporting Ukrainian Evacuees).
Profits will be channelled through this community group to support their work, be it organising Christmas presents for children spending Christmas far from home, taking little ones on the Santa train in Embsay, organising traditional Christmas events, funding school supplies and uniforms or sourcing vital resources on the ground in Ukraine. 
Last year, many of you bought our 'Protect Our Oceans' tote bags, raising over £500 in the process. This year, our designer-in-residence, Katie (now Y9) has hand drawn the design you can see below.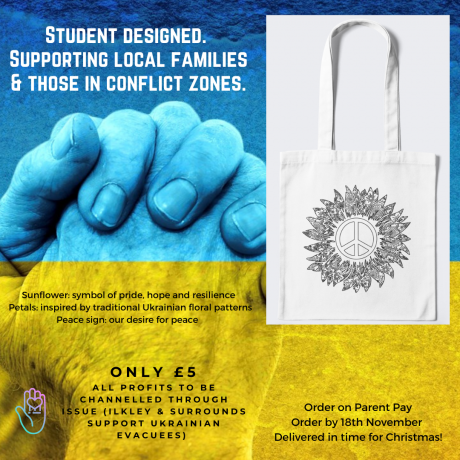 The design centres around the Ukrainian national flower, the sunflower. It has, in recent months, become a symbol of hope, unity and pride. The beautiful designs inside the leaves are inspired by traditional Ukrainian patterns. Combined with a peace sign, we hope these bags will act as quiet reminders of our solidarity with our Ukrainian neighbours and our ongoing wish for a peaceful end to the conflict.
Whether you're wanting to get a thoughtful present for someone this festive period or simply wanting to support a great cause, please go to ParentPay to order your bag(s) before Friday 18th December to be distributed before the Christmas holidays.
Please help us to sell as many bags as possible for this incredible cause by sharing this post.
Cost: £5.00 a bag (made from sustainable materials)
How to buy: ParentPay
Deadline for sales: Friday 18th November.
< Back to all news stories