THE BIG PTA CHRISTMAS RAFFLE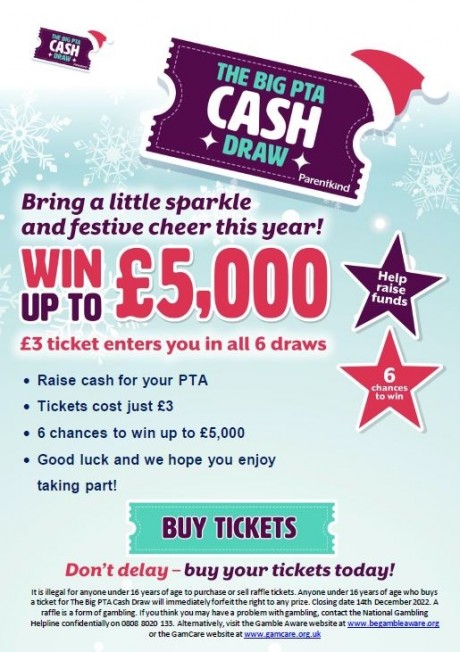 We are determined to boost our fundraising and end the year on a high and we need your help to achieve this.
We are taking part in the Big PTA Christmas Raffle again this year, a nationwide PTA spectacular, with a closing date of 14th December 2022.
Purchase tickets and be in with the chance of winning up to £5,000 in each of 6 draws at bigptaraffle.co.uk. Each £3 ticket will generate a number that will be entered into all 6 draws with the PTA receiving a guaranteed 50% of sales.
Your support is greatly appreciated and we wish you good luck!
What are we fundraising for?
It's a fantastic way to bring parents, carers, teachers and the wider community together, in partnership with our PTA, and at the same time give something back. We hope to raise funds that can support and enrich the education of our children. We aim to provide extra resources for the students and improve the school environment.
Yours sincerely,
Ilkley Grammar School PTA Committee
How the raffle works
For £3.00 you will get one entry into each of the 6 draws. That's 6 chances to win. More tickets equals more chances to win.
You choose where your money goes. Select IGS PTA at checkout to make sure the money from your tickets goes straight to your PTA.
Parentkind will announce the winning numbers on their site and we'll also let you know if you win via email.