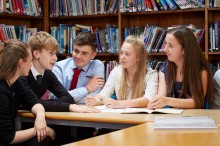 POST-16 TASTER DAY
Postponed to Monday 31st January 2022
As a part of the application procedure for entry to Post-16 in September 2022, all prospective students are invited to a "Taster Day" which is to be held remotely on Monday 31st January 2022. Please email post16@ilkleygs.co.uk for further information about Taster Day.
Students will then be asked to apply formally using the school's application form which can be found here and must be emailed to post16@ilkleygs.co.uk
All applicants will then be invited to an interview to discuss their application and to provide guidance on eligibility for particular courses which for current IGS students will be based on the student's predicted grades. (Students who would be new to IGS will be asked for evidence of their predicted grades at GCSE.)
All applications must be submitted before the application closing date to be guaranteed for consideration. The closing date for receipt of applications for the 2022-23 academic year is Friday 11th February 2022.
< Back to all events