PTA AGM & FUNDRAISING UPDATE
The PTA held its Annual General Meeting on Monday 16th November, and I am pleased to say that all posts were filled for another year, as follows:
Chair
Jane Wearing
Treasurer
Stephen McCann
Secretary
Sara Scott
Executive Committee members

Jamie Gutch (Teacher Representative)

Lindsay Ackroyd;

Caroline Grice-Ellis.
Thank you to them all for their time and commitment. And a huge THANK YOU to outgoing Treasurer Richard Clough, and outgoing Secretary Becky Taylor, for their many years of hard work and commitment.
It was reported that just over £8,000 was raised by the PTA over the 2019/2020 academic year. The money raised was committed to the following projects:
To help fund further enhancement of the student mental health/wellbeing support that is already provided, in anticipation of an expected increase in demand over the coming months;
To increase the provision of outdoor furniture and 'awnings' to provide increased shelter for students in anticipation of an increased use of outdoor space over the coming year.
The year did not see the usual calendar of fundraising events, due to Covid-19, but we would like to thank everyone that supported our one event of the academic year, the

Quiz & Curry night

, and those that have made financial donations via the

GoFundMe

website.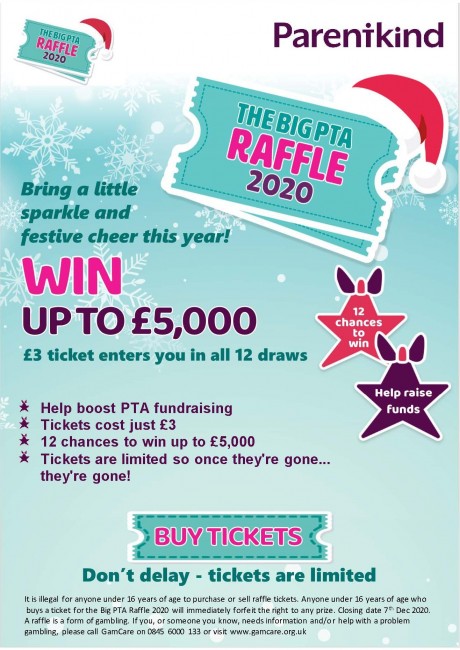 This year, we have again not yet made plans for any of our usual events as we simply don't know what we will be able to do but we are excited to announce that IGS PTA is joining in The Big PTA Raffle 2020 which is running across the UK. This has been a really tough year for everyone and this is an opportunity to have some fun and raise money for our school.
One ticket costs £3 and you will get one entry into each of the 12 draws, which will run daily from 7th December to the 18th December. That's 12 chances to win and more tickets equals more chances to win.
Click here to buy your tickets!   
The final prize tally depends on how many tickets are sold but if the maximum amount of tickets are sold across the UK, you could have 12 chances to win up to £5,000! 
50% of every ticket sold through our page will come straight back to the PTA. It's a fantastic way to bring parents, carers, teachers and the wider community together, and at the same time give something back. Please feel free to spread the word to friends and family.
We hope to raise funds that can support and enrich the education of our children - we aim to provide extra resources for students and improve the school environment.
Your support is greatly appreciated - good luck!
Please watch this space for other 'virtual' events that we would hope to organise as we aim to raise more money to further enhance mental health/wellbeing support for our students in these extremely challenging times.
Of course, you can also still donate via the GoFundMe page here.
Finally, with Black Friday almost upon us and with Christmas also approaching,

don't forget to use easy fundraising or Amazon Smile for all your online shopping

.
You can choose IGS PTA as your nominated charity and every time you spend, we'll receive a payment. It costs you nothing and is so easy – go to www.easyfundraising.org.uk or go to  https://smile.amazon.co.uk/ 
In other news, the PTA plans to continue to hold meetings but these will need to be held remotely. If you are not already on our mailing list and would be interested in attending our Zoom meetings, please email us at PTA@ilkleygs.co.uk. Or if you have any other queries about the PTA or simply would like to get in touch, please do so at the same e-mail address.
Jane Wearing - PTA Chair
< Back to all news stories