SPORTS COUNCIL - VIRTUAL FUNDRAISER
From: Land's End To: John o'Groats - LEJOG
Starting on: Monday 12th July 2021
The 2020/21 Sports Council team have invited all students and staff to join them on their virtual 'Land's End to John o' Groats' fundraiser challenge. As a school we will be cycling, running, walking and swimming the distance across the country. Students and staff can participate before or after school in the light mornings and evenings or maybe track their journey to school. The route we will follow is 874 miles long!
The Route:
Land's End to John o' Groats journey is the equivalent distance of the whole length of Great Britain between Land's End in the southwest of England and John o' Groats in the northeast of Scotland.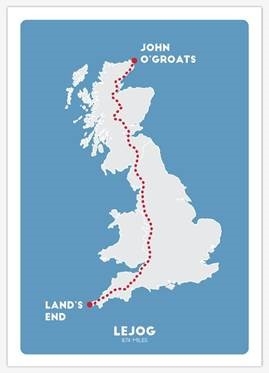 Along the way we will 'virtually' visit numerous points of interest including:
St Michael's Mount
Cheddar Gorge
Shap Fell
The Lake District
The Grampian Mountains
The Cairngorms National Park
Views of the Orkneys
Who we are raising money for:
As 'Team IGS' we are raising money for two sources:
New athletics equipment for Ilkley Grammar School PE department;
Disability Sport Yorkshire - selected by the Sports Council.
Disability Sport Yorkshire
With 18% of the population having a disability or a long term medical condition and four out of five disabled people in England currently inactive, there is so much more to be done. By helping to raise funds for disabled people to take part in physical activity, more and more of the 1 million disabled people in Yorkshire can enjoy the health and social benefits of sport.
Disability Sport Yorkshire aims to make Yorkshire the best place in England for disabled people to:
Improve their health through physical activity;
Play sport on a regular basis;
Become a sporting champion.
Our fundraising can help make a huge difference to the lives of disabled people!
£50 pays for a two-hour activity session for disabled children
£100 provides basic coaching for disabled people in a sport of their choice
£250 buys essential adapted sports equipment
£1,000 delivers a full day athletics completion for 400 disabled young people
We hope to see lots of you sign up for the challenge!
< Back to all news stories