PERSONAL BEST
Our vision at Ilkley Grammar School is to provide an exceptional, inclusive learning experience at the heart of our community. Our students will achieve their academic Personal Best and will be equipped with the confidence and skills to make a positive difference to their own lives and the lives of others. We will achieve this through modelling our core values and attributes in the way we work together.
We want your child to leave IGS as a rounded individual who has not only celebrated academic success but who had also enjoyed their time here. Whilst the development of knowledge, skills and understanding is very important, we also place great emphasis on qualities such as resilience, creativity, confidence, independence and tolerance so that students develop into wonderful and responsible young people, fully equipped for a successful life ahead.
Students and staff together have developed our tie values and attributes. These underpin our bespoke Personal Best Time (PBT) programme and also provide the focus to achieve our Personal Best across the board and as a journey through the school.
PBT Celebration Assemblies are held at the end of each term.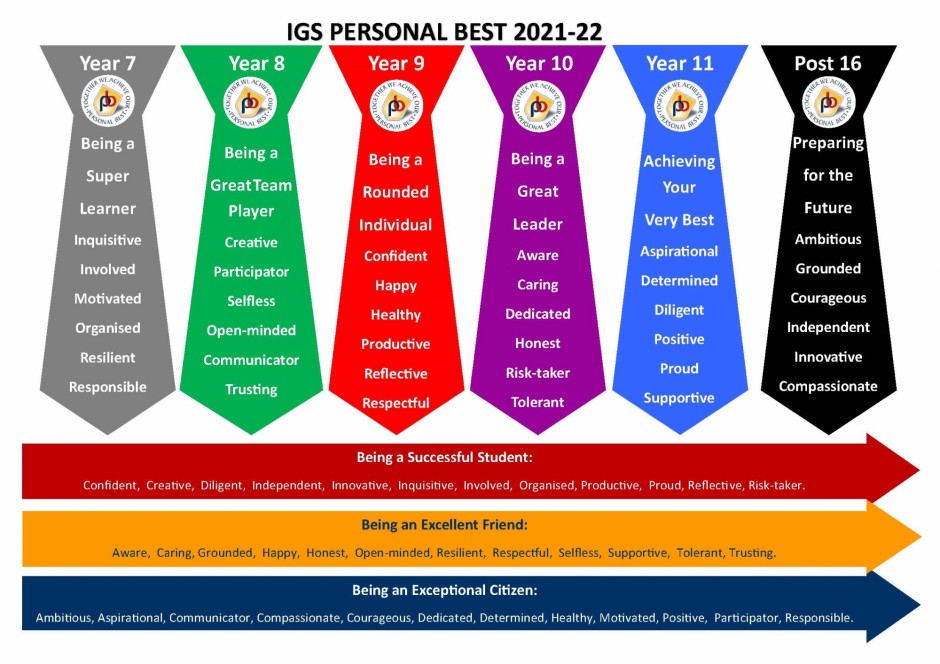 Please click here to see our Personal Best Behaviour Policy.