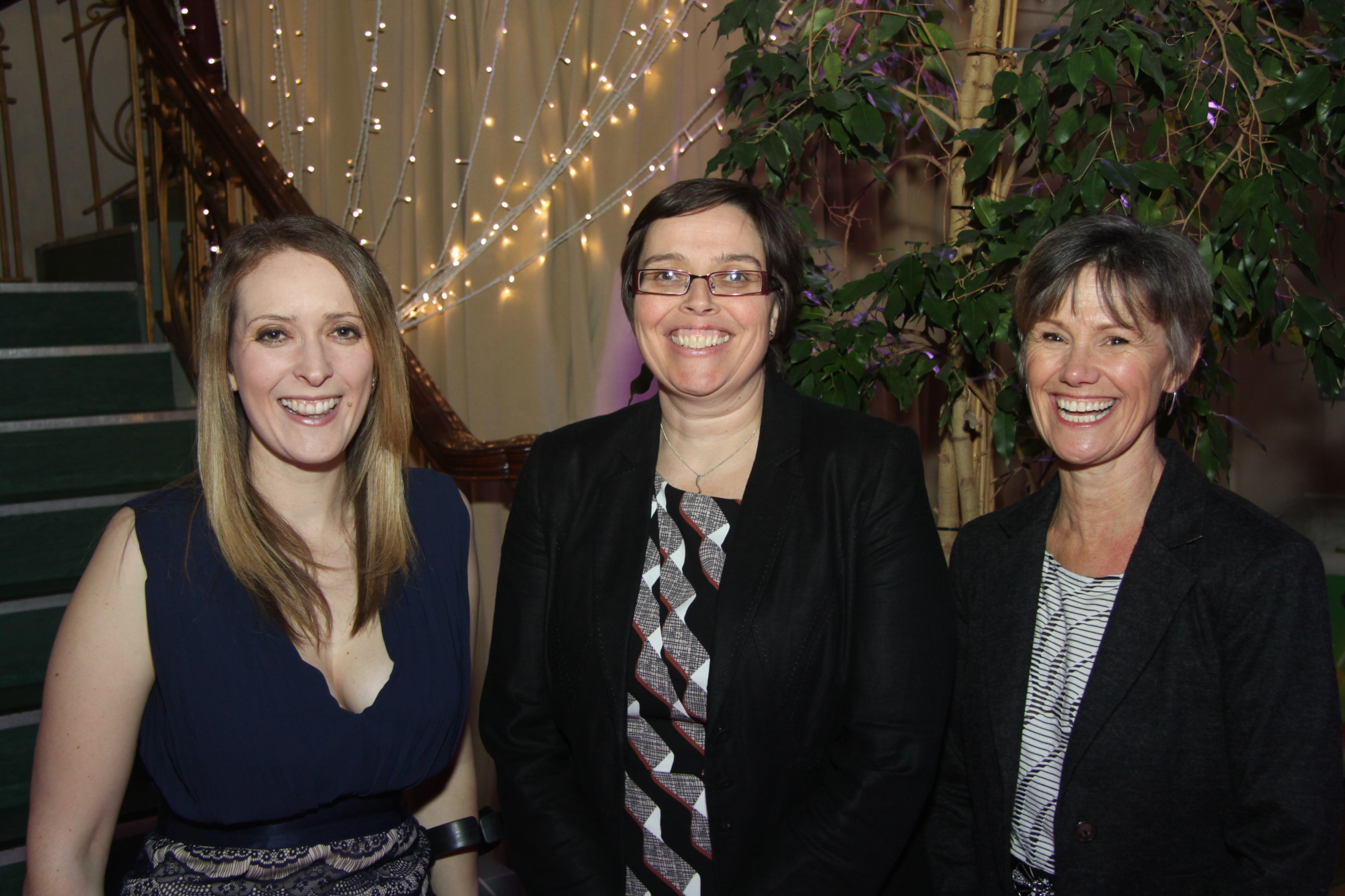 YEAR 11 PRESENTATION EVENING 2019
On Wednesday 20th November, we enjoyed another fantastic evening at the King's Hall in Ilkley honouring the achievements of the class of 2019. Last year's "red ties" had much to celebrate and should be very proud of their collective achievements. With the continuation of more challenging linear examinations, 245 students left with qualifications, with 82% of students achieving at least 5 grade 4s (equivalent to the old C grade) including maths and English. With an average grade across all entries of grade 6, over 40% of all grades were at grades 7-9 and almost 1 in 4 of all grades were at the highest grades 8-9, the new measure of exceptional attainment. This was another record year for IGS with a progress score of +.58 showing that, on average, students made over half of a grade more progress in every subject across the curriculum than students of a similar ability nationally. 
The whole evening was another excellent showcase for Ilkley Grammar School, as students proudly collected their GCSE certificates to the warm applause of friends, family and IGS staff.  It was clear that many students had again achieved their Personal Best, and the months of hard work and determination had paid dividends.  Ms. Williams, Headteacher, said: "As a year group, the 2019 'Red Ties' achieved a record-breaking set of GCSE results with a wide variety of superb individual accomplishments and achievements. Once again, I was incredibly proud as Headteacher to celebrate these achievements with our students and their families at our Year 11 Presentation Evening in The King's Hall. Congratulations to the Class of 2019!"
Outstanding individual achievements were recognised in subject awards, as well as in prizes for exceptional progress and attainment across the curriculum. The exceptionally high standards at IGS, alongside the record results, meant that for every prize winner there were many others eligible for an award. Indeed, whilst there was considerable academic success to celebrate, also on display was a wide range of musical talent.  There were excellent instrumental solo performances from current year 11 students, Charlotte McCarthy, Gus Lovell and Joe Rogers, as well as a powerful rendition of Pulled from The Addams Family by year 13 student, Eleanor Dear.
The evening closed with an inspirational address from the Guest of Honour, Danielle Brown, a double Paralympic gold medallist and the first disabled athlete to represent England in an able-bodied category.  Danielle encouraged everyone to make the most of opportunities and to drive ourselves forward in order to take ownership of the future and maximise our potential.  Her key messages included:
Choose the right response
You can't control what life throws at you, but you can choose your response.
Learn from failure
Through failure we can make ourselves better.  There are positives which can be taken from any situation.
Believe in yourself
Confidence is a valuable gift.  Appreciate and celebrate your achievements and invest in yourself.
Well done "red ties" of 2019!  It has been a real privilege to watch you grow, personally and academically, and you fully deserve your success.
SUBJECT AWARDS
Subject

Attainment

Progress

English Language

Izzy Matear

Emma Whitaker-Pitts

Rosie McEwan

Eleanor Payne

Evie Meegan

Georgie Upham

English Literature

Iona Lee-Wardell

Matt Bothamley

Brodie Gibson

Ted Balaam

Jessie Sykes

Ellie Bailey

Mathematics

Adam Mitchell

Hannah Corbett

Erin Turner

Daniel Woodthorpe

Ella Hammond

Abby Graham

Trilogy Science

Izzy Matear

Jamie Rimmington

Ellie Brown

Joseph Rutter

Ben Johns-Watson

Joe Linaker

Additional Maths

Ben Radick

Alex Harlen

Biology

Josh Hall

Ella Shuttleworth

Matthew Midgley

Benjamin Stotts

Chemistry

Polly Bridges

Josh Hall

Harry Constantine

Sam Bowness

Physics

Polly Bridges

Ben Radick

Joe Stoker

Zachary Rogers

French

Jamie Rimmington

Gabriel Abbott

Spanish

Emma Whitaker-Pitts

Amy Smith

Geography

Ella Shuttleworth

James Newman

Ide Gale-Coleman

Barnaby Walsh

History

Marcus Woodthorpe

Izaak Shuttleworth

Barney Dale

Henry Stoddart

Business

Charlotte Hart

Jamie Sykes

George Smith

Matthew Briggs

Philosophy & Ethics

Charlotte Hart

Izaak Shuttleworth

Computer Science

Ellie Brown

Elliot Frost

ICT

Thomas Dunhill

Luca Clark

Health and Social Care

Abi Parker

Lily Dobson

PE

Nina Pearce

Jack Fendyke

Art

Iona Lee-Wardell

Harvey Stapleton

Photography

Alex Tomlinson

Isobel Waller

Drama

Annabelle Cole

Lucy Redding

Music

Libby Madden

Tom Chapman

Food and Nutrition

Erin Bellerby

Pippa Hunter Rowe

Design Technology: Electronics

Luis Benito

Matthew Hunter

Design Technology: Resistant Materials

Ben Smith

Adam Townsend

Design Technology: Textiles

Cerys Richards

Isabel Sowden

Design Technology: Engineering

Alfie Moore

George Emsley-Sharp

Media

Natasha Greenwood

Harry Tennant

Travel & Tourism

Tegan Bastow

Eliza Town
OUTSTANDING ACHIEVEMENT AWARDS
The following Exceptional Attainment students achieved the highest GCSE grades across the curriculum.  Our Outstanding Progress awards recognise the students with the highest progress scores based on the value added from Key Stage 2 to GCSE.
We are fortunate at Ilkley Grammar School to have many students with excellent achievement and many more students deserve our praise and admiration beyond those who have been awarded prizes.
Exceptional Attainment
| | |
| --- | --- |
| Reuben Baldwin | Adam Mitchell |
| Matt Bothamley | Charlie Murray |
| Polly Bridges | James Newman |
| Freddie Charlesworth | Nina Pearce |
| Hannah Corbett | Ben Radick |
| Kate Flanagan | Georgina Remmer |
| Brodie Gibson | Cerys Richards |
| Joshua Hall | Edward Riley |
| Ella Hammond | Jamie Rimmington |
| Alex Harlen | Ella Shuttleworth |
| Adam Hind | Noah Ugail |
| Abby Lane | Jess Wells |
| Iona Lee-Wardell | Emma Whitaker-Pitts |
| Izzy Matear | Daniel Woodthorpe |
| Emily Mayo | Marcus Woodthorpe |
Outstanding Progress
| | |
| --- | --- |
| Tegan Bastow | Ralf Naylor |
| Luis Benito | Thomas Pattinson |
| Tom Broadbent | Lauren Sanderson |
| Barney Dale | Sophie Snowdon |
| Harry Firth | Isabel Sowden |
| Abby Graham | Emma Spinola |
| Ella Grech-Cini | Jamie Sykes |
| Tom Hagan | Eleanor Thorpe |
| Molly Higgitt | Alex Tomlinson |
| Eleanor Hunt | Libby Walker |
| Pippa Hunter Rowe | Tom Waller |
| Asa Lowe | Jack Wareham |
| Archie Meekley | Harry Wellock |
| Archie Minto | Amelia White |
| William Moran | Sophie White |
Special Awards
Outstanding Attendance Award

Eloise Hall

Personal Best Award

Jess Wells
Ella Grech-Cini

Young Musician of the Year Award

Edward Riley
Tom Chapman

Commitment to School and Community Award

Isaac Naylor
Freddie Charlesworth 

The Personal Development Award

Jamie Sykes 

The Pinsharp Cup for Sporting Achievement

Archie Minto

The Resilience Award

Becca Rogerson
Charlie Mason

Community Sports Award

Ellis Thompson
Ella Hammond
Ide Gale-Coleman
The Year 11 Community Service Award
Towergate Insurance Caring Professionals 

Rosey Naylor

Ilkley Parish Council Citizenship Award

Luke Pearse 

The Ilkley Playhouse Award

Elsa Tuxworth
< Back to all news stories