STUDENT DESIGNED TOTE BAG
BUY NOW TO SUPPORT THE YORKSHIRE AIR AMBULANCE!
Year 8 student, Katie W, has designed a 'Protect Our Oceans' tote bag for Charities Week! She designed it on her iPad with the intention to promote more sustainability in 2022. We are hoping that many of you will share her passion for reducing plastic bag usage and place your orders now! 
"I drew this design because it inspires and encourages people to be eco-friendly, I chose the words "Protect Our Oceans" because when people see this tote bag, they will think about how they are harming our oceans. By buying plastic bags instead of economically friendly ones they will protect our precious world. Hopefully people will see it and want one of their own.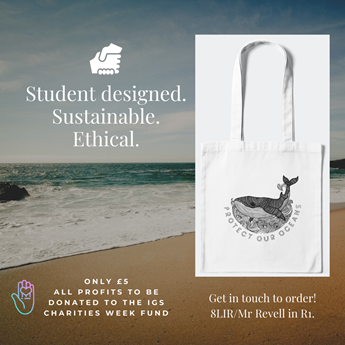 Our class are selling these for Charities Week to raise money for Yorkshire Air Ambulance. This is a great cause, and we hope you'll support us by buying a bag (or two)."
Cost: At £5.00 per bag every penny of profit will go to this year's KS3 charity which is the Yorkshire Air Ambulance. Multiple orders are most welcome!
When: Our order with the printing company will be submitted at the end of the week with bags being distributed in the new year. 
How: Either pop into classroom R1 with cash or place your order via Parentpay.
Thank you in advance for any orders and please spread the word amongst family and friends. 
< Back to all news stories