IGS Uniform (KS3 and 4)
Adjustments from November 2020
Whilst schools are expected to follow their usual uniform policies, we have been considering possible adjustments given that windows and doors need to remain open in order to keep classrooms well ventilated.
As the weather deteriorates, we have agreed some minor amendments to our uniform policy in order to address the colder temperatures in classrooms and to keep students warm.
Currently, students are able to buy an IGS branded jumper.  However, to keep costs more affordable we are now extending this to include:
Any plain dark grey or black V necked jumper (non-branded) which may be worn underneath blazers as long as ties are clearly visible
Please note that only IGS hoodies are allowed in school. 
IGS hoodies may be used as an outer layer, but must not be worn under blazers. 
Students will also be permitted to wear their IGS hoodies in classrooms on top of their blazers and jumpers as an additional layer if it is particularly cold.
We would also encourage you to ensure that outer clothing is waterproof where possible, and to consider scarves and gloves for very cold weather.
---
Our uniform is sensible, practical and smart. Students are expected to wear their uniform with pride.
Students will be challenged where they fall short of our high standards and sanctions will be applied if required.  Students are ambassadors for the school when they are out in the community and wearing school uniform and are expected to behave accordingly.
Blazer: black with school crest (compulsory). Available from uniform stockists.  Along with the school tie, the blazer is how students are recognised as members of our school community and consequently it must be worn at all times unless for a specific, agreed reason.
Shirt: plain, white and tucked in with the top button fastened. No short, fitted shirts or blouses.
School tie: the colour of the school tie is individual to the year and is available from uniform stockists.  The crest must show below the knot at all times.
Skirt: wrap-around, partly pleated in grey to be worn no more than 6cms above the knee.  Available from uniform stockists.  There may be a requirement to wear trousers if the skirt is repeatedly worn too short.
Trousers: dark grey, plain and sensible style made from a suitable material such as cotton/polyester.  For the avoidance of doubt, it is easiest if trousers are bought from a recognised mainstream stockist of school uniform (see list below).  Trousers must not be overly baggy or tight.  Outside pockets, visible stitching, hipsters, flared trousers, denim and brushed cotton are not allowed.  Belts must be black, plain and cannot be heavily branded.   
Shoes: black leather, sensible and practical in style, no trainers (even if black).  Shoes must be either flat or with low heels.  Students coming into school without the correct footwear will be given school pumps to wear.
Pullover: (optional) plain, V-necked in grey with the school logo.  Available from uniform stockists.  No non-school pullovers, jumpers, hoodies or sweatshirts may be worn at any time and will be confiscated.
Socks: Plain black, grey or white.
Tights: nude or black.
Coat: If it is wet or cold students are allowed to wear a coat outside at break and lunchtime or an IGSS branded hoodie over the top of the blazer.  These must be removed before entering the classroom. 
Jewellery: Students can wear a flat, minimalist ring. Years 7-8 only one plain stud in each ear lobe is permitted. From Year 9, students are allowed more than one piercing in each ear, up to a maximum of three. No other facial, tongue or body piercings are permitted. If worn students will be required to remove them immediately, they will be confiscated and returned to parents. 'Retainers' worn in place of piercings and bracelets are not permitted.
Headscarf (worn for religious reasons): if worn this needs to be black or grey.  However it can match the colour of your year group tie.
Hairstyle: must not be extreme (e.g. overtly short or involving shaved lines).  Hair colour must be natural and not highly coloured or streaked.
Makeup: this is not permitted in years 7, 8 and 9.  In years 10 and 11 it must be discreet.  If it is noticeable it is not discreet. 
---
Non-exhaustive list of recognised school uniform suppliers:
For branded IGS items
For non-branded items of school uniform e.g. trousers and shirts
Primark
Marks and Spencer
John Lewis
Sainsbury's
Asda
Or other mainstream suppliers of school uniform
To buy and sell 'pre-loved' uniform please visit IGS Market Place on Facebook.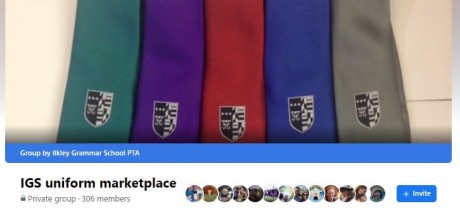 This is a group for Ilkley Grammar School parents and staff to buy and sell second hand school uniform, sports wear and sports equipment, miscellaneous educational equipment, books etc, to raise funds for the PTA.
Please provide a description, photo and asking price with your post. Once sold, we ask the sellers to make a donation (50% suggested minimum) to the PTA using Parentpay.
Thank you!