POSITIVE FEEDBACK
Positive messages from parents and the community
---
---
Evening of Celebration
Thank you for a lovely evening of celebration at Kings Hall on Thursday evening. It was wonderful to acknowledge the GCSE achievements of all the students. The students were absolutely amazing and a credit to IGS.
Congratulations to you and all the staff involved in organising such a big event. You delivered a fantastic evening and made it very special for everyone. 
Once again, thank you for a joyful evening.
Received: 20 November 2021
---
Year 11 Prize Presentation Evening
 I would just like to say a huge thank you for the Year 11 Prize Presentation Evening at Kings Hall last night. It was a fabulous, well-run event and will be a great memory for all the students. 
It was wonderful to see all the students together, supporting each other in their achievements. 'C' had a great evening.
Received: 18 November 2021
---
Yr 11 Presentation Evening - Last night
Just wanted to say thanks for the invite – I thought it was great. An amazing bunch of young people and well done on the presenting.
Received: 18 November 2021
---
Year 11 Presentation Evening
Can I just say that I enjoyed last night immensely - and not just because 'L' was playing. It worked very nicely.
Received: 18 November 2021
---
A Big Thank You
Thank you for a really wonderful evening. At various points myself and my friend were near tears. The last twenty months have indeed been a challenge for everyone of the young people receiving their awards. As a family we have experienced a rollercoaster journey and have watched how 'H' has dealt with and excelled in the challenges she has faced.
Everyone involved in supporting her on her IGS Journey has helped create the remarkable young lady we have before us.
The PE Department have inspired and enabled her to share her passion for sport highlighting all that it can offer. They have given her confidence and the can do attitude. The relationship she has with sport is the exact opposite of my own, but I think serves as a testimony to what teachers can achieve.
Thank you to all the staff who have juggled so many things over the last few months to enable the Silver Ties and on this occasion my daughter 'H' to shine.
Received: 18 November 2021
---
Mental health first aider course
I just wanted to let you know how much 'O' enjoyed the mental health first aider course, and to thank you for giving her the opportunity to do it.

I have literally never seen 'O' so inspired by something. She hasn't stopped talking about what she learned, how interesting she found it all. I just wanted to share this with you, to illustrate how the decision to give 'O' a place on the course had a positive outcome for her personally, and how grateful we are for the opportunity she was given.

It's actually made 'O' wonder if she should be changing direction with her studies and career, from policing to mental health nursing. She appears to have a much clearer vision of how rewarding this career would be, than she has been able to articulate about policing. She has researched this and is aware that unless she performs better in her exams than predicted, she would still need to do a foundation course next year to access a mental health nursing degree program. There look to be foundation courses locally at Bradford and Salford. She is aware she now needs to think hard about whether she wants to take this change of direction.

Once again, I simply can't thank IGS enough.
Received: 17 November 2021
---
Students' act of kindness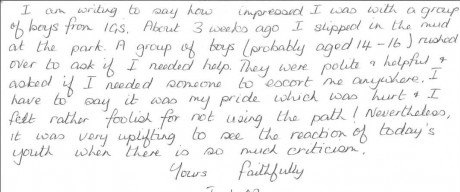 ---
Transition thanks!
I just wanted to pass on my thanks to you and your staff for their efforts this half term. [My children] have settled really well into IGS and the support, welcome and care that they have both been afforded by the staff they have come into contact with, has been way beyond our expectations.
Of particular note is the welcome that both have received from the PE department and I feel that this played a massive part in them feeling part of the wider school.
[The pastoral team have] played a huge part in [my son] settling so quickly and [have] regularly and discreetly checked in to make sure he's okay. But it's the little things that [they have] done that probably go unnoticed, that have had the biggest impact, for example buying him something to eat so he can stay in the diner with his friends at lunchtime.
Having them both move schools was a big worry and somewhat of a risk but I can honestly say that it was definitely the right thing to do.
Please pass on my thanks to your staff and I hope that you are able to enjoy the half term break and get some well earned rest!
Received: 21 October 2021
---
Thanks to the school and Covid Immunisation team
'L' has his " jab " today. The provision of some water and biscuits was well received and the ease and manner of the staff involved was noted by him and his friends to be kind and caring.
Thank you for this,  we appreciate you are operating systems and processes well beyond usual school requirements.
Received: 14 October 2021
---
 With our ongoing appreciation of all your hard work..
 I can truly say that [our son] is having such a great experience at IGS -thanks!
Received: Thursday, October 14, 2021
---
Open Evening
I just wanted to thank you for the presentation you gave at this week's open evening, which my wife and I attended, along with our ten-year old son.  
We were so impressed by your presentation, the other kids who gave a speech, and generally the thought you obviously give towards children's well-being and personal development. [Our son] is very active and so the extra curricular activities look fantastic.
Our gut feeling meeting you and some of the teachers and hearing about the school was so strong that we have now amended our choice for [our son's] nominations.  
Received: 08 October 2021
---
Amazing Job
I just wanted to pass on our thanks to IGS and all the teachers. Everyone has done an amazing job of supporting the new year 7s in their transition process, and our daughter has had a very happy and settled start to the year.
We know that the teachers will be working incredibly hard to make this possible, and that it's a very tricky time in schools just now. We are very grateful for all you are doing.
Received: 05 October 2021
To see previous positive feedback please click on the year below: