POETRY COMPETITION WINNERS
The English department ran the first of what they hope will become a regular poetry competition last term.
The hope is to help unleash student creativity and reveal how young people view themselves and their role in society. Over 70 entries were received which made for a tough judging process. 
Congratulations go to the winners who were Amelia (for KS3), Alex (for KS4) and Taher (for KS5) for their stunning poetry competition entries. The prompt was 'What Does It Mean To Be Human?' We hope that their prize facilitates the start of a full anthology of creativity! Well done to all three and everyone who participated and submitted an entry. 
Amelia's Poem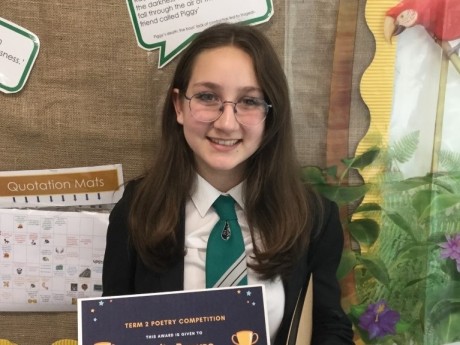 How do we know we are human?
By the ideas in our minds
The way we think 
The way we believe certain things are right or wrong. 
Am I wrong?
Or am I just against the typical beliefs of a human
But what makes something human? 
The emotions rushing through our brains
Each bad thought tearing another piece of you away until there is nothing left, yet the good thoughts keep you standing
On your own two feet 
With your own two eyes and your own two arms 
Is this what makes us human? 
The physical structure of our bodies 
Or is it the mental part of it 
The way we think of ourselves. 
The way we communicate
The same species however sometimes not understanding each other. 
If we are all human, then why are we all different? 
Am I alienated compared to him, her, them? 
Some creature from another planet, another universe
My pigmented eyes, different to that of my mother's 
Drawn to the mirror in front of me of which a human once made, invented, imagined
Looking deep into my reflection, hesitantly, I ask
Are we even human? 
The English Department is already looking forward to this terms competition with the prompt being 'Protect Our Planet'. They would like to encourage all students to channel their inner Greta Thunberg and David Attenborough and look forward to reading more of the student's exciting entries!
Please see Alex and Taher's poems below.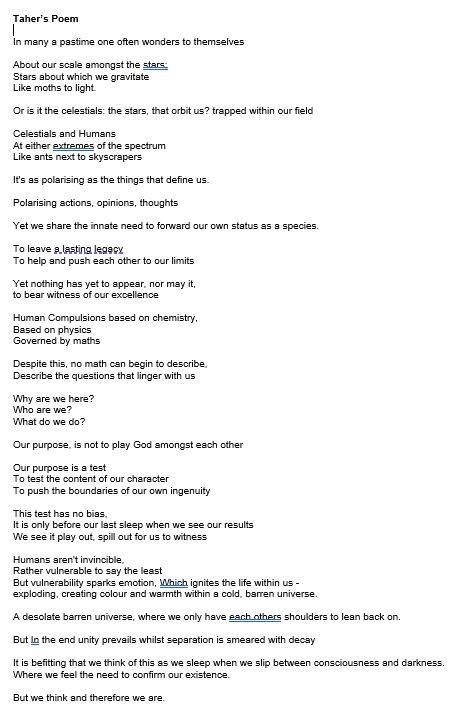 < Back to all news stories