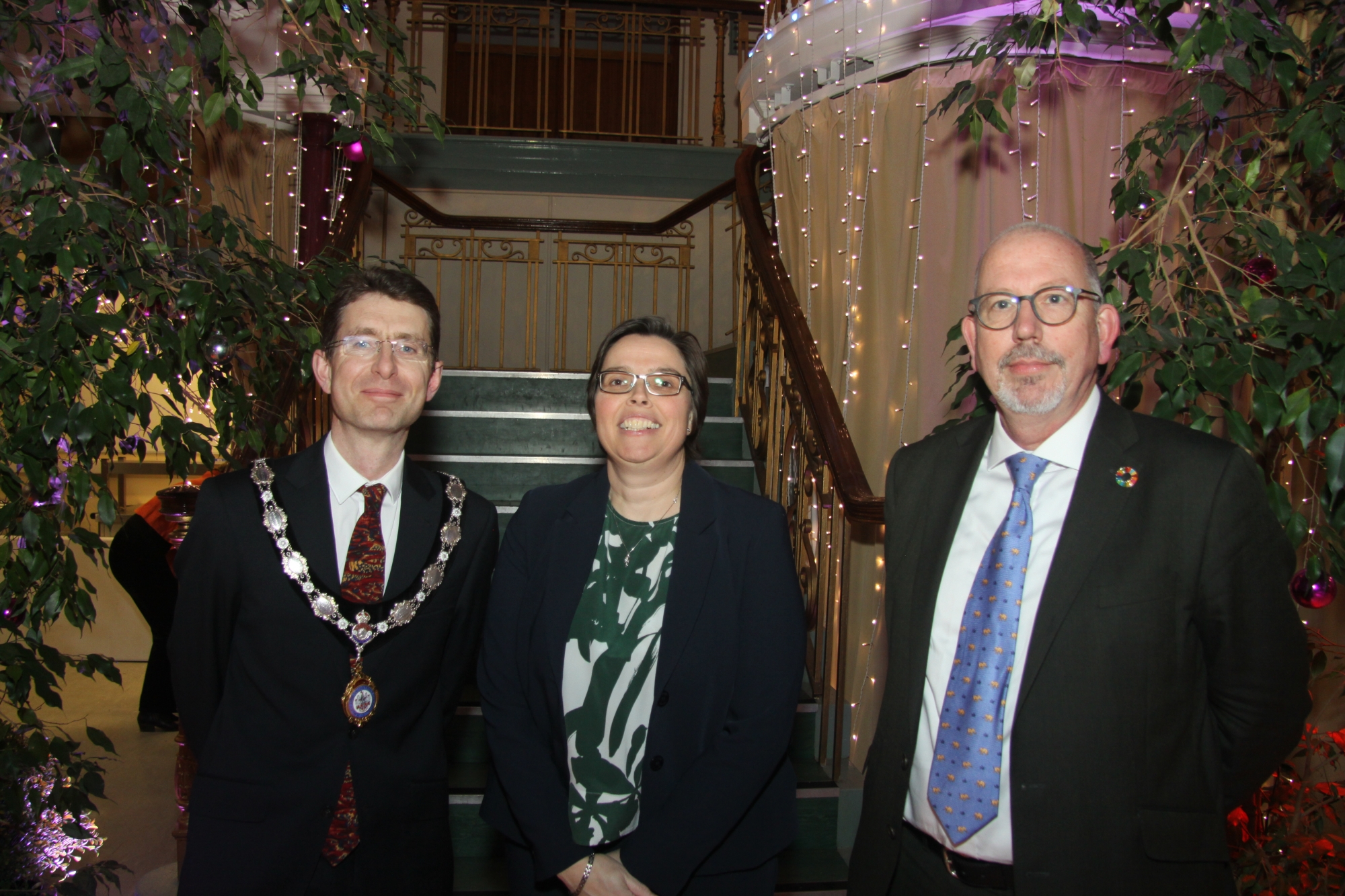 Year 13 Presentation Evening 2019
On Thursday 19th December 2019, we celebrated another fantastic evening at the King's Hall in Ilkley honouring the A-level achievements of the Class of 2017-19. With new, more demanding qualifications now in every subject, the students had every right to feel proud of their collective achievements: with a 99% pass rate, 79% of all grades were at A*-C, 60% at A*-B and nearly one third of all entries were at A/A* grades. More importantly, IGS students made significantly above average progress compared to students who had similar GCSE starting points nationally.
The whole evening was an excellent showcase for the school and an uplifting end to a busy term. Students proudly collected their A-level certificates to the warm applause and congratulations of friends, family, IGS staff and special guests including our Guest of Honour, Professor Tim Benton and Ilkley Town Mayor, Mark Stidworthy. It was clear that this year group had again risen to the challenge to secure their Personal Best and the months of hard work, determination and resilience had paid off. Ms. Williams, Headteacher, said "Our Year 13 Presentation Evening was yet again a fantastic event and a privilege to be a part of.  As every year at IGS, we are fortunate to have so much to celebrate in the achievements of our students and this year was no exception."
"The range of talent on display and being celebrated on the evening – not only in terms of outstanding academic results, but also the whole school awards for commitment to the community, student leadership, sporting excellence amongst others - made for an absolutely superb evening!
We wish all of our newest alumni the very best for the future – I are confident that they will go on to achieve further huge successes in their chosen career paths and lives."
There were many superb individual achievements which were recognised in 26 subject awards, as well as in prizes for outstanding progress and attainment across the curriculum.  In total eight students achieved three straight A* grades: Freya Basey, Ben Bearpark, Ellie Cooper, Jasper Evans (4 A*s including EPQ), Antonia Fern, Matthew Hall, Jamie Spiller and Harvey Sykes. In addition another five students achieved two A* grades and an A grade including Harry Clough, Nisha Cant, Joseph Haigh and Livia Hammond.
Such performances have secured places at some of the most prestigious universities in the country including 5 students who secured their places at Oxford or Cambridge:
| | |
| --- | --- |
| Jasper Evans: | PPE at Lady Margaret Hall, Oxford |
| Antonia Fern: | History of Art at St Catherine's, Oxford |
| Joe Haigh: | French and Italian at St Anne's, Oxford |
| Megan Hayes: | English at Selwyn, Cambridge |
| Jamie Spiller: | Physics at Trinity, Oxford |
Mr Sykes welcomed back a very special year group and commented on what a privilege it had been to work with them. The class of 2017-19 had not only achieved tremendous academic success, but had also grown into remarkable young men and women with the capacity to make a positive difference to society. Indeed, special awards recognising wider achievements beyond academic success were also awarded to the following students: 
Award for Outstanding Attendance:

Harry Clough

Awards for Commitment to School and Community:

Ellie Cooper

Dobson and Robinson Award for Sporting Excellence:

Cameron Reilly

Community Service Award:

Eve Woodward

IGS Award for Resilience:

Alex Webb    

IGS Award for Courage:    

Tori Mallinson

IGS Award for Independence:

Beth Krivan

IGS Award for Compassion:

Frankie Henderson

IGS Award for Innovation:

Harry Watson and Harry Barker

The Kathleen Hewitt Edwards Award

For Outstanding Contribution to the Performing Arts:

 

Frankie Wills
| | |
| --- | --- |
| The Brathay Award for Outstanding Student Leadership: | Esme Pearce and Adam Cooke |
| The Olicana Historical Society Award: | Jasper Evans |
| The Ilkley Playhouse Award: | Patrick Campbell |
| The Ilkley Parish Council Citizenship Award: | Adam Hayes |
With excellent musical performances from some of our current year 13 music students, including a solo from saxophonist Matt Hodson, there was a wide range of talent on display all evening.  This is an event which is a highlight of our annual calendar and we were delighted that so many of our former students were able to celebrate with us.
Well done the class of 2017-19.  Your school and your families are very proud of you and we wish you all the very best for the future! 
< Back to all news stories