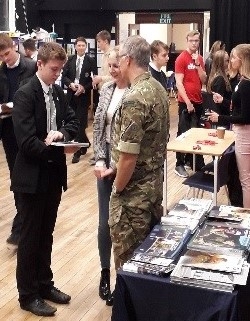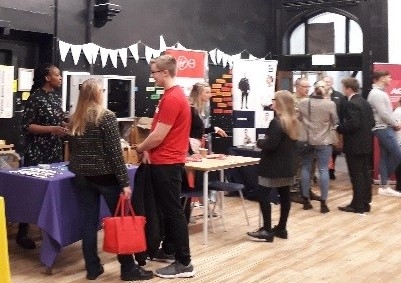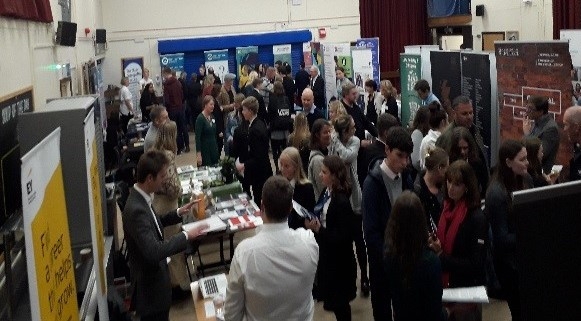 CAREERS FAIR & ASPIRATION EVENT
On Wednesday 23rd October, we welcomed a myriad of over 70 exhibitors to our Careers Fair, with 24 Aspirational Career Sector Presentations running as a key part of the evening.
This Careers event would not have been possible without their support and we really appreciate their involvement, help and advice given to both students and parents. It was very well supported by students and parents from all years and once again an exceptional turnout through the door.
We were especially proud so many alumni supported this event promoting their various employers and to those who delivered a presentation so professionally.
Feedback
The feedback from exhibitors, students, parents and staff who attended demonstrated it was a fantastic success. This feedback gives an idea on how the event was viewed:
Students:
"Great having top Uni's all in one place and talk to people about it."
"Didn't think there would be so much there, it was packed with information – glad I went."
"Liked the presentations I went to, they had great info you can't get from a website."
"Couldn't believe some of the apprenticeship opportunities and how much they get paid!"
Parents/ Carers:
"I attended the careers evening earlier this week with my daughter. I just wanted to let you know that I thought it was an excellent event. The talks were really interesting and helpful. There was a very good range of employers there, and I thought the event as a whole was an excellent showcase to students and parents of the range of interesting careers and learning opportunities available to young people in today's economy."
"Thank you so much to you and your team for organising such a fantastic event."
Year 11 is a key decision making year for these students and the majority of the year group attended, including their Head of Year, Mrs Hepworth
Tutors:
"A tremendously successful event! Well organised, well attended and well received! It showcased the wide variety of pathways available for our students." Mrs V Hepworth / Head of Year 11
"The evening had a wonderful feel with many parents and students commenting on how useful they found it and how it had now expanded their outlooks and possible career paths they want to pursue. One particular highlight for many students was the talks organised in a range of industry sectors, this provided them with tips on how to gain experience and where to look for opportunities to gain work in their industries." Mr Khalil / Progress Leader for Year 11 
"Amazing event once again, our students are very lucky."
"Such great feedback from last night from parents and staff – year 12 seem to know the different pathways available."
Exhibitors and Presenters:
"At your event I had an overwhelming amount of students and parents asking about our Science courses and the facilities we have at Sheffield - what a really good event for students!" Sheffield University
"Thanks for hosting a terrific careers fair. I would be keen to highlight how else we may engage with your students and provide further details on opportunities the RAF has to offer."
"Thank you for inviting us and giving us the opportunity to present – a really fantastic event!" Produmax
Ilkley Grammar School are proud to showcase the fantastic range of pathway options available to all our students with our Careers Fair and Aspirational Presentations. We encourage them to take advantage of the range of opportunities on offer through our careers programme to make an informed decision on their own pathway.
Careers Drop-In sessions are available for all students every Lunchtime from Monday – Thursday in C10
Karen Mitchell | Careers Leader
< Back to all news stories