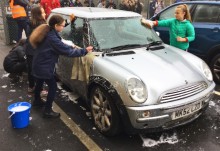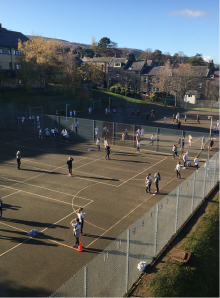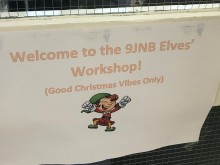 CHARITIES WEEK 2020
NEWS ROUND-UP
This year our annual charities week ran from Monday 7th to Friday 11th December in support of:
Cancer Support Yorkshire;

Bradford Hospitals' Charity;

The Clarke Foley Centre, Ilkley;

The Eve Appeal.
A huge total of £6,152.76 was raised!
Please read below to see how we did it!
---
WHOLE SCHOOL
Friday 11th December - National Christmas Jumper Day (non-uniform day)
A donation of £1.00 was requested to add some Christmas cheer to the end of a great week of FUNdraising!
KEY STAGE 3
Year 7
Bonkers Bingo! (7LIR)

The following report of the event has been written by Joshua Swift.
"7LIR have worked extremely hard on a charity week event that raised nearly £500 and gave out some amazing prizes - including an inflatable dinosaur costume, a Land Rover experience, a £50 Amazon voucher and much more. Of course we had to get a little more creative due to Covid-19 so instead of hosting it in a hall we created a teams meeting and a Showbie group, including some background music to accompany it. Also, during PBT we acted as a delivery service to hand out the bingo booklets and on the day after the event we delivered the prizes.
Even before the event the participants received an entry prize and the form with the most sign ups received an extra prize, so everyone came away with something. Ten minutes before the event started Mr Revell challenged us to take a photo of our pets and include our bingo booklets in the picture. The first five people who sent one received a prize. Then Mrs Varley began to get festive and challenged us all to write a Christmas joke, they were all crackers, and they really helped spark the festive spirit.
The event started and each participant took out their first card as Mr Revell read out the animals. For the first prize of the evening it would take a full horizontal line to win, then two horizontal lines and finally for the £50 Amazon voucher a full house. The event then continued like this for the sweets round, the films round, the sport round and for the Land Rover experience: the Christmas round. It was certainly a night to remember."
Thank you to everyone who participated, Mr Revell and Mrs Varley for organising this and for 7LIR for helping to set this event up.
Mr Revell and Mrs Varley hosted Bonkers Bingo on the evening of Thursday 10th December. They had almost 150 families join via Teams and Showbie. Mr Revell said "We had some very ecstatic winners of a Land Rover Experience, an inflatable dinosaur costume and a wide range of presents, that were fab and silly, gifted by families in 7LIR and local businesses. I'd like to give a huge thank you to Mrs Varley for helping to host! It was an energetic event and lovely to see the families having a dance and joining in with some virtual bingo fun!"

Well done! What an amazing achievement! We'd like to pass on our thanks to: everyone in 7LIR for all their hard work; all the families for taking part and the local businesses below for their fabulous contributions!
Land Rover Experience
Betty's

Clip

 n Climb
Grove Bookshop
Midgley's Fish and Chips
Odeon Cinemas
New Brook Street Deli
M&Co
Sun Street Eats
Artform Creations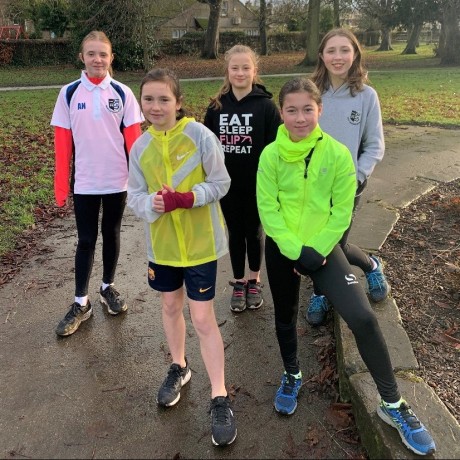 Tutor Group Marathon Relay Challenge
On Monday 7th December, Year 7 completed the Tutor Group Marathon Challenge. Each student in the year group ran 1 mile, to contribute to their tutor group's overall marathon (26.2 miles). Well done to all students in Year 7 for their fantastic effort and participation to raise funds for KS3's chosen charities.  
In addition to this, five students in 7SB organised their own Marathon challenge by running around Burley-in-Wharfedale. They each completed 5.2 miles to add up to the total of 26.2 miles and raised over a whopping £500! Well done to Ava, Annabelle, Susanna, Emily and Alice on this excellent achievement.
Green Non-Uniform Day
A donation of £1.00 was requested to wear something green to represent the year group tie colour.
Various other tutor group activities have taken place across the year group, such as; 
7SB Staff Car wash
7VEC Guess the staff baby photo 
7SRZ Kahoot quiz and penalty shoot-out
7AE Quiz and various individual challenges at home 
7CPM Guess the name of the dragon. The winner of the dragon was Ellie from 7CPM and the dragon's name is Barney!
Thomas Nailer cycled 80km on his exercise bike and raised over £200.00!
Alice Aynsley (7SB) made Christmas wreaths to raise money for charities week.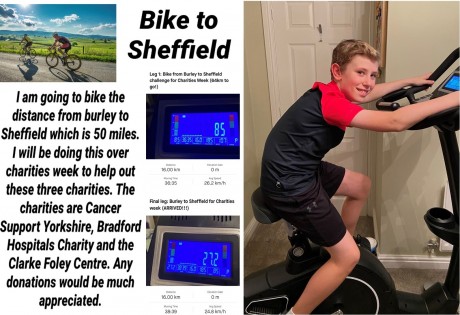 Miss Allen said "A huge well done and thank you to all of Year 7 for their incredible kindness, effort and participation in this year's charities week, although it has been a little different, it has certainly been a huge success!"
Year 8
Year 8 had a fantastic week of fundraising and activities, including a Red Non-Uniform Day.
In the Everest Challenge, the year group scaled the height of Mount Everest between them, hiking up staircases throughout the school, Ilkley and their own home to reach an aggregate height of 29,029 feet! 
They also completed a Tutor Group Readathon Challenge - between them reading the entirety of 'A Christmas Carol' by Charles Dickens. Year 8 students will all be emailed a link to access this audiobook on Friday 18th December.
A special mention must be given to 8KL who put together an amazing Christmas Hamper full of chocolates, sweets and other goodies as a raffle prize. Tickets were available for £1.00 on Parent Pay and over £1,000 was raised. An incredible result for Mrs Lister and the students! The lucky winner was announced as W Sunderland!
Year 9  
Elves Workshop (9JNB)
The workshop was up and running! Very generous donations were received from the elves and their families who got to work straight away. They were a number of 'Head Elves' in charge of the various production lines: 
Rosie: Reindeer food
Maia: Christmas cards
Verity: Pom Pom baubles
Ben: Gold coin gifts
Thomas: Christmas dinosaurs
Ava: Chocolate treats
Blythe: Paper chains
The Christmas items were sold on a stall in the Year 9 area throughout the week. Mrs Capstick has reserved two bags of reindeer food and Mrs Midgely has asked the elves to put some Christmas dinosaurs aside for her! Mrs Brown said that she was "very proud" of all the elves for their hard work.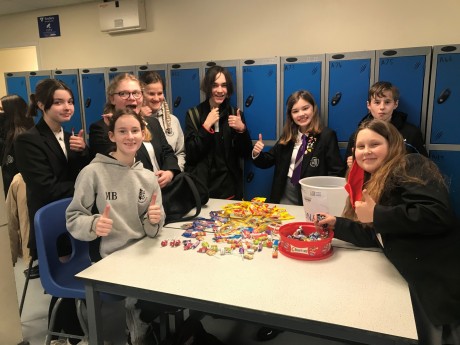 Lolly Wall (9EJW)
Miss Maskill said "Sophie and Poppy have put so much effort into charities week. They are two truly kind and helpful individuals. The lollipop wall involved students picking a lollipop and depending on what colour was on the other end, this determined if they won a prize and how big the prize was. Sophie and Poppy really carried the form through and put so much effort in! I'm so proud of them!"
Student Council Sweet Sale
A 'tuck shop' stall selling individually-wrapped sweets and chocolate in the Year 9 Centre was organised and ran by the Year 9 Student Council representatives, ensuring safety measures of course. Miss Maskill said "They have been so passionate and enthusiastic about raising money and have organised the events entirely by themselves. I'm very proud indeed!"
Purple Non-Uniform Day
A donation of £1.00 was requested to wear something purple to represent the year group tie colour.  
Chores for Charity
Students were required to fill a Smarties tube with 20p coins in return for completing chores and helpful jobs around the house. 
Spare Change Appeal
During tutor time throughout the week, a collection bucket was circulated for any small change to be donated. 
KEY STAGE 4
Years 10 and 11
The following report has been written by Alice Crutchley and Emily Smith.
"Every year at Ilkley Grammar School, each year participates in charities week; a week in which collectively the whole school attempts to raise money for that year's chosen charity. This year, the charity is very close to school, as it is in support of an illness which affects millions of people worldwide. Former student Emma Harling was recently diagnosed with ovarian cancer. There is a 1 in 78 chance that each woman will be diagnosed with ovarian cancer in their lifetime, with over 7000 cases diagnosed yearly in the UK. Currently, there are over 41,000 women living with ovarian cancer in the UK alone. This year we will all be working together in support of such an amazing foundation."
"I think it is really great that Ilkley Grammar School is choosing a charity this year that is very close to our hearts." Elodie Parsons, 10RLE
"We organised a non-uniform day to raise money and awareness across the school. We also feel that we have benefitted from our PBT sessions in learning about such important issues that do not receive much attention." Max Gibson, 10RLE
KEY STAGE 5
Years 12 and 13
Throughout the week - Food Bank Donations 
In Post 16, students collected for the Ilkley and Skipton food banks.
Form 12DM/LG went the extra mile and raised a separate £58.00 by asking others to donate 'what they are not doing/buying' this year, ranging from less takeaway coffees to cinema tickets, and smashed their £50.00 target. The proceeds will be donated to MIND, given the impact of 2020 on the metal health of young people.
Prize Draw Winners!
For each pound donated on ParentPay, the named ParentPay account holder was given one entry into a Prize Draw. The winners were selected at random from all entries on Friday 11th December 2020.
Hamper Winners
Winner 1 is: G Waterland
Winner 2 is: M Burnham
Winner 3 is: A Aynsley
Winner 4 is: J Begbie
Winner 5 is: S Thompson
Individual raffle prize:
Winner 1 is: A Naylor
Winner 2 is: C Cox
Winner 3 is: T Brittain
Winner 4 is: R Haestier
Winner 5 is: T Lucas
---
---
SPOTLIGHT ON OUR CHARITIES 
Cancer Support Yorkshire (KS3)
Cancer Support Yorkshire is well known to our school community, having supported numerous members through cancer diagnosis and treatment.  
To assist with our COVID secure fundraising efforts, Cancer Support Yorkshire set up a Text giving line for the IGS community. 
The text campaign code for Ilkley Grammar School is IGSCSY 
Please text IGSCSY followed your chosen donation amount (£1 minimum – £20 maximum) to 70085 for example: 
To donate £1 text IGSCSY1
To donate £2 text IGSCSY2
To donate £20 text IGSCSY20 
Texts cost your chosen donation amount, (not limited to multiples of anything) plus one standard rate message. 
Clarke Foley Centre (KS3)
Situated in the heart of Ilkley, adjacent to the main car park, Clarke Foley is a charity providing facilities for recreational, educational and a wide range of other leisure pursuits. 
It is used by people of all ages, many local clubs, groups, and societies who provide a variety of courses, events, exhibitions, and meetings. 
Our students have many family members who benefit from the Clarke Foley Centre, which remains closed due to COVID tier levels. 
Bradford Hospitals Charity (KS3)
Bradford Hospitals Charity supports NHS workers during the pandemic, be it from providing extra food when a shift has run over to care packs. This was a practical opportunity for us to thank those working on the front line to keep us safe.
The Eve Appeal (KS4)
On pupil recommendation this charity was chosen to support a former Ilkley Grammar School pupil, Emma Harling, who was diagnosed with ovarian cancer. Emma recently shared her story, which you can read here. 
The Eve Appeal helps patients following a mis-diagnosis of a gynaecological cancer. Emma has shared her experiences in a more detailed video to pupils and we are incredibly proud of her for having the courage to talk about cancer and remaining so positive.
"That's a phenomenal amount, especially considering the circumstances. You and the rest of llkley Grammar should be extremely proud! Thank you for supporting The Eve Appeal and sharing our vision of a future where fewer women develop and more women survive gynaecological cancers.
The money you have raised could fund our Ask Eve Information Service for over 30 hours, meaning they can be at the end of the phone to answer questions and provide advice to people who have been diagnosed with a gyane cancer, are worried about Gynae symptoms or have had a friend or family member who has been diagnosed with a Gynae cancer.
Thank you once again to the whole of Ilkley Grammar for your fantastic support." - Calum Coker, Public Fundraising Officer.
Thank you so much for your generosity!
< Back to all news stories