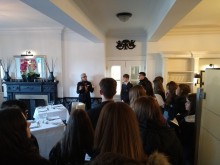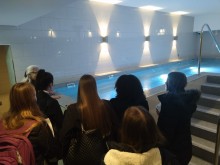 EVENT MANAGEMENT AT THE CRAIGLANDS HOTEL & SPA
9C-Em1, 9E-Em1 and 9K-Em1 were treated to a guided tour of The Craiglands Hotel and Spa, Ilkley. Chris, the hotel manager, took each group around the various areas of the hotel sharing her fantastic knowledge of the hospitality and catering industry. Thank you Chris – an incredibly rewarding experience for our pupil's!
Max Gibson, Harriet Melia and Abigail Rutter, said:
"On Thursday the 27th February, our event management class went to The Craiglands Hotel and Spa to have a first-hand look into how the hospitality and catering world works. We were shown through the hotel by the general manager Chris, who explained to us the ins and outs of running a hotel as a business.
We also got to see their new Verbeia spa, named after the goddess of Ilkley, which boasts a wide range of services and treatments including massages, manicures, tanning and deep relaxation. This demonstrated to us the importance of customer satisfaction: one of the many aspects of hospitality.
This trip showed the wide variety that a hospitality qualification offers and definitely informed a lot of decisions about KS4 options!"
< Back to all news stories