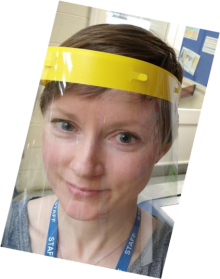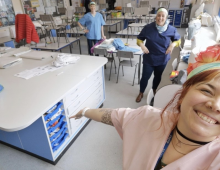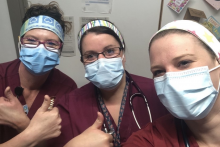 IGS help with PPE for NHS
Ilkley Grammar School has been doing what it can to support the NHS during the Covid-19 pandemic. As well as remaining open for critical key workers, the school is also manufacturing and donating PPE equipment for their local NHS services. This follows a year nine pupil contacting both the Design Technology and Science departments to ask for help for PPE equipment for his parents; both of whom are GPs at different surgeries in the Bradford district. The school rose to the challenge and is making as much PPE as possible for the NHS in an effort to 'do their bit' for their local community.
The Science department has donated goggles to three different locations. Andrew Marshall Curriculum Leader said "the science department had jumped at the chance to do anything they could to help in the crisis. We are so happy that our humble lab safety goggles will go some way to protecting those exposed to the virus day to day".
The Design and Technology department focused on the manufacture of face visors using a combination of polypropylene and acetate. A team of staff spent their Easter break setting up a production line to manufacture 60 units. These were distributed to four different surgeries, quickly receiving really positive feedback via the school's twitter page. The team are now waiting for more polypropylene to continue making face visors for further requests. Rachel Eyles teacher of Design Technology said "It's been a great opportunity to give our time to help the frontline NHS workers who are working tirelessly to look after the nation – it is just a little way to go to say thank you!"
The Textiles team have been producing numerous scrubs, scrub wash bags, caps, and hairbands in school and at home made with school resources and donations. Each scrub set has to be individually cut with the 4 patch pockets pressed and attached before the component pieces, including individual front and back facings, are sewn together. Isobel Davies who has been working hard making the scrubs said "I am glad to be able to help! Long live the NHS!"
In response to receiving a batch of goggles Dr Caroline Rayment a representative of the WACA GP Federation said the goggles donated to The Ilkley Moor Medical Practice were a 'godsend' and that they would be distributed between 8 GP surgeries in the local area. 
Pictures left:
Isobel Davis in scrubs, Rachel Eyles in visor, Victoria Marshall, Isobel Davis and Rachel Eyles IGS D&T team, finished visors, staff at Airedale Accute Assessment Unit
< Back to all news stories