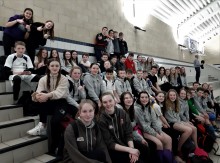 IGS RETAIN SWIMMING CHAMPIONSHIP
On Tuesday 26th February the IGS 202 swim team travelled to GSAL to try to retain the Leeds and District Swimming Championships. As the evening progressed the noise levels and excitement increased, with every Ilkley swimmer being cheered by every member of the team across all year groups.
At the end of the evening, for a third year in succession we were pleased to celebrate winning the 'Leeds and District Swimming Championship'. All year groups were represented and every team scored amazing results throughout the gala.
The team achieved the following fantastic results.
| | |
| --- | --- |
| 1st places | 14 |
| 2nd places | 20 |
| 3rd places | 6 |
| 4th places | 2 |
| 5th places | 0 |
 Congratulations to all the swimmers and the team managers, Year 12 students, Becca Ashelford and Libby Ives
Year 7 -   Samantha Knowles, Millie Williams, Poppy Graham, Megan Stacey, Evie Bowman, Alex Makay, Sam Roberts, Dan Tomblin, Oliver Young, Ayton Richards.
Year 8 - Helena Coy, Rhea Smith, Elizabeth Meredith, Jess Pitt, Genieve Pickett, Louis Herring, Callum Dow, Joshua Pearce, Shay Roberts-Williams, Cameron Leach.
Year 9 - Holly Vasey, Charlie Macina, Ellen Johnson, Freya Whiteside, Lewis Boyle, Max Ashelford, Tom Campbell, Seth Pickering, Bradley Craven, Jakub Marszewski.
Year 10 - Abbie Pearse, Daisy Graham, Maddie Henderson, Harriet Kelly, Jasper Herring, Wilbur Summerson, George Knowles.
Year 11/12 - Florie Pickering, Jiska Evans, Mia Allen, Lotti Ridgeway, Scarlett Spoerry, Nathan Coy, Angus Twigger, Lucas Walton, Ashley Leach.
Team Managers Year 12 - Becca Ashelford and Libby Ives. 
A particular congratulation must go to the Year 7 girls and Year 10 boys who scored maximum points for the team.
| | | |
| --- | --- | --- |
| 1st | Ilkley Grammar | 168  2020 CHAMPIONS |
| 2nd | BBG | 141 |
| 3rd | Harrogate | 132 |
| 4th | PHGS | 113 |
| 5th | Horsforth | 75 |
| 6th | Morley Academy | 40 |
< Back to all news stories