LITTER PICKING WITH FRIENDS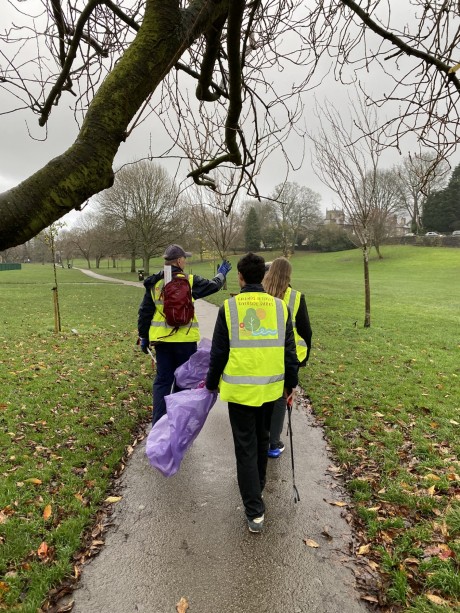 Ilkley Grammar School pupils last week joined members of Friends of Ilkley Riverside Parks (FOIRP) to tidy up the park with a litter pick. Despite the horizonal rain and very strong winds the Year 9 pupils were still in high spirits and enjoyed the fresh air accompanied by Mrs McManus and Mr Carr.
Mr Carr said "FOIRP work so hard all year round to maintain and upkeep the park and were delighted when some IGS pupils wanted to help.
We have recently secured some funding from the Bradford Cleaner Streets Fund for gardening equipment and when the working parties start again in the spring we will recruit some more pupils to help their army of volunteers.
FOIRP are keen to engage with the school to get a better understanding of the needs of the young people of Ilkley in order to aid the redevelopment of the park.
Ed and Doug from the group were able to talk to the pupils whilst picking up litter about what they have done over the past two years and what they want to do next year starting with the skate park. It was really nice to hear the pupils talking passionately about what they would like and offering to help."
IGS has plans to litter pick again in the New Year.
< Back to all news stories