'MOTHER TONGUE OTHER TONGUE' COMPETITION WINNER
Mother Tongue Other Tongue is an annual languages competition run by Manchester Metropolitan University. It is designed for students who speak a language other than English at home (Mother Tongue), or who are learning another language at school (Other Tongue).
In the Mother Tongue part of the competition, students for whom English is not their first language submitted a poem or song from their mother tongue (either original or 'remembered'), along with an explanation of the inspiration behind the piece, where it comes from and why it is important to them. In the Other Tongue part of the competition, students learning another language at school wrote an original poem in this second language. 
Led by former Poet Laureate Carol Ann Duffy, this celebration of cultural diversity and of the many languages currently spoken in schools across the UK receives the Queen's Award, the highest national recognition. It is also endorsed by youngest Nobel Peace Prize Winner and Education Activist Malala Yousafzai, and British Boxer Amir Khan.
IGS students submitted some fantastic entries for both parts of the competition, and MMU are delighted to announce that Leyla Usman (year 12) was a successful winner in the Mother Tongue category for her poem "Heartbreak & Destiny", which is written in Pushto.
Leyla's entry has now been added to the "Mother Tongue Other Tongue" anthology (on page 74) along with winners from this year and previous years.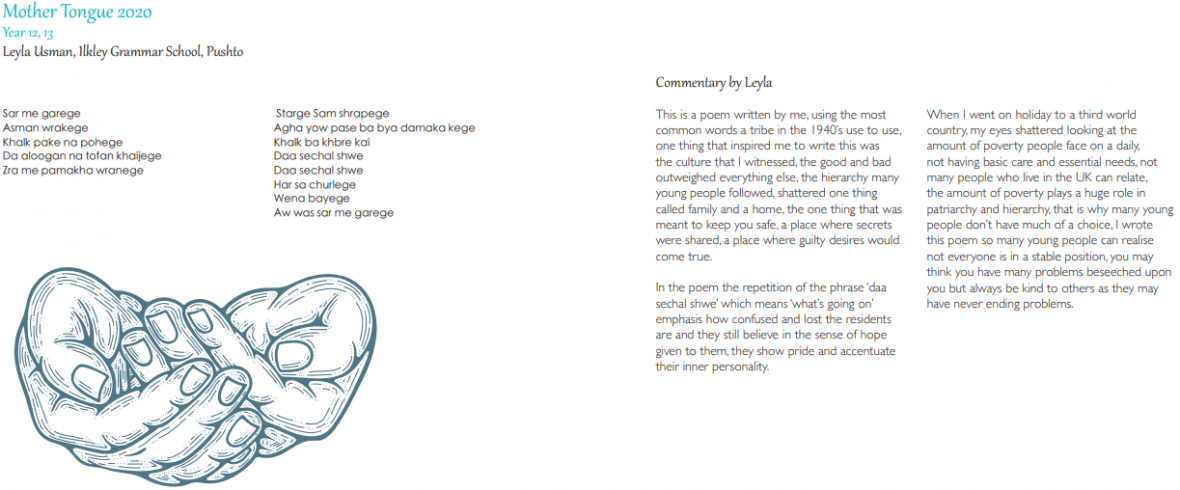 Please click HERE for further details.
< Back to all news stories