PRE-LOVED UNIFORM SALE
Wednesday 13

th

July

2022 18:00 - 19:30 in Sports Hall
PLEASE DONATE!
This year the Eco-iLeaders are giving you the opportunity to have a clear out, buy great quality pre-loved uniform and help towards saving the environment by recycling old school uniform at our first ever Pre-loved Uniform Sale!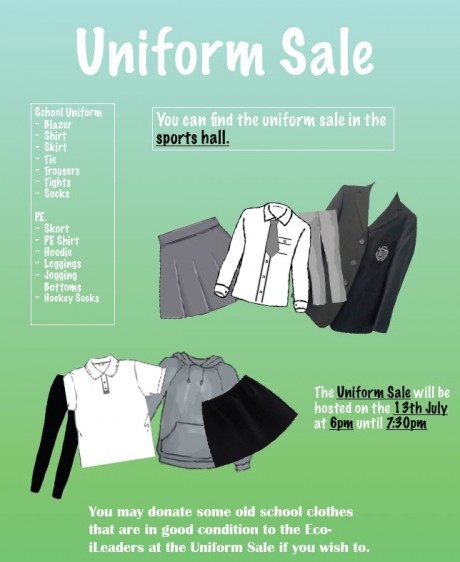 Please donate all your good quality IGS school uniform, that is no longer needed, by leaving it in a carrier bag in the grey storage box in the main school entrance. All uniform items including PE kit and shoes are welcome up until 13th July.  
These items will then be sorted and made available for sale to all parents and students on Wednesday 13th July from 18:00 till 19:30 in the sports hall. Clothing in all sizes will be on offer for any parents to nip down and get next year's uniform sorted for an extremely low price. 
By donating your old uniform and getting your new items from us, you will be helping to break the cycle of unnecessary waste material and will instead be helping to protect the environment.
All proceeds from the event will be split between helping the people facing devastating times in Ukraine and to supporting the excellent environmental work done by the school's Eco-iLeaders who are organising this sale. 
Please use the Springs Lane entrance for parking when attending the sale.
Please donate all your unwanted uniform and save yourself some money by getting next year's uniform at our sale!
Examples of Pricing:
| | |
| --- | --- |
| Shirts, Ties | £1.00 |
| Skirts, Trousers, PE Tops | £2.00 |
| Blazers, Shoes, Trainers | £3.00 |
| Nearly New Blazers, Rugby Shirts | £5.00 |
Many thanks in advance
Sean Haynes | Y12 Eco-iLeader | Poster by Niamh Goodall | Y7 Eco-iLeader
< Back to all events