QUIZ & CURRY NIGHT
Friday 31st March 7.00 pm in B-Hall
Tickets: £15.00 per person
Join us for this fun annual event which is thoroughly enjoyed by all that attend!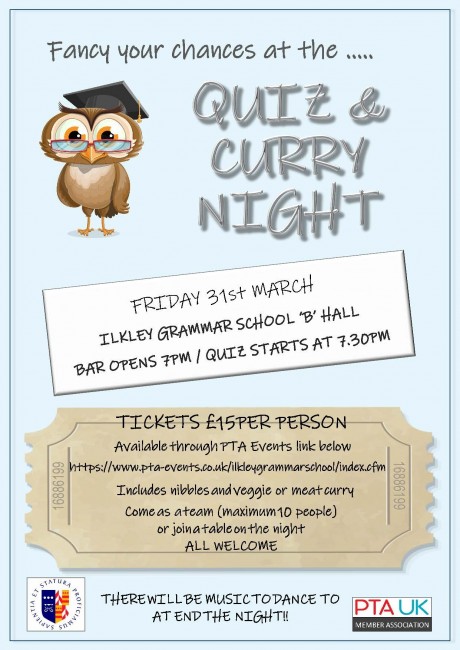 This year, our Quizmaster is the fantastic teacher, Mr Hefferin, who has lots of fun quiz rounds planned. There will be a cash bar so you don't get thirsty and a disco at the end for those that fancy a Friday night boogie.
Tickets cost £15.00 per person which includes a delicious curry meal (veggie option available) provided by the brilliant school catering team.
Tickets are available here. 
if you haven't registered already, you'll need to, but after you've done that it's easy to buy tickets for any of our future fundraising events.
All our fundraising this year will seek to support continued development of mental health/wellbeing training for staff and students, to fund our annual PTA Bursary and to support the Creative Arts within school.
The bar opens at 7.00 pm with wine, beer and soft drinks available.
The quiz will start at 7.30 pm.
Please join a table on the night or come as a team (maximum 10 people)
There will also be music provided after the quiz.
Everyone welcome!
< Back to all events