CAREERS: WORK EXPERIENCE
July 2023
Ilkley Grammar School students gain access to a wealth of work experience opportunities in 2023 thanks to the generosity of over 300 local and regional organisations and individuals.
Jamie Gutch, Deputy Headteacher at IGS (Post-16 & Personal Development) reflects on the importance of high-quality Careers Education and thanks the 300+ businesses and organisations who have supported IGS this year.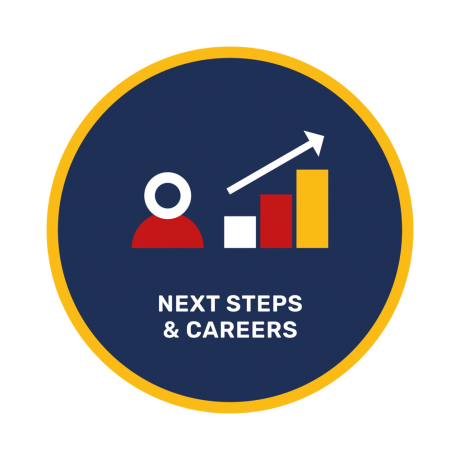 The process of deciding a career path is not easy. If you were to ask 10 different people about how to choose a career you might be told to concentrate on what you enjoy most, others might advise getting a professional qualification, some would advocate starting at the bottom and working your way up, others would champion university, others apprenticeships and some would say there is no such thing as a single path these days, we have to be prepared to have several careers and think in terms of transferable skills.
At school we have the wonderful task of preparing our students for jobs which don't exist yet, such is the speed of technological advance, and also at the same time considering which jobs may not exist in the future if the march of AI, and the well-publicised concerns of its own creators are to be believed. The government is rightly strongly encouraging all schools to engage with the real world and to ensure that meaningful encounters with the working world are integrated into the curriculum – not as easy as it might seem given the parallel, and arguably fundamental responsibility of completing the curriculum in each subject on time to ensure students are well-prepared for their exams.
The point at which a student receives unbiased information about the full range of educational and professional opportunities open to them is actually a critical moment in a young person's life, an essential part of a well-rounded education that provides them with the knowledge, skills, experiences that ensure they are ready for the next stage of their lives, and ensures they are sufficiently empowered to make their own independent decisions about what they might become. Without the freedom to consider the different alternatives out there there is the risk that a sort of hereditary principle applies to career choice – that you end up doing what your parents do for a living (which may be fine - or not), or in reverse – you end up doing the exact opposite of what your parents do (which may be fine - or not). The point is that if our young people are to have the opportunity of achieving social mobility, they must be free to consider alternatives to the assumptions they (or we as parents/carers) might otherwise make about the right thing to do.
This year at IGS, through the Next Steps & Careers strand of Personal Development, we have re-organised CEIAG into a coherent, 7-year curriculum which plans opportunities for all students to gain direct contact with employers from a wide range of sectors both through the subjects students study and also outside lessons. As educators we have a lot to offer our students, but we also know that it is critically important for students to encounter people working for other businesses and organisations who offer different perspectives.
Times are tough for many businesses, and one might expect, when times are tough, for professional generosity to be in short supply, but IGS has been incredibly lucky this year to continue to be supported by a huge network of businesses and organisations (over 300) who have given freely of their time, expertise and energy to help us to prepare students for the critical moment they step out into the big wide world.
The network of over 300 organisations that have supported us at IGS this year is a true reflection of our local and wider community and its interconnected nature. A lawyer needs a plumber, a plumber needs a barber, a barber needs a financial advisor, a financial advisor needs an IT consultant, an IT consultant needs an optician, an optician's child needs a teacher, and in education we need connections with all of these professions because it is our students who will ultimately enter all these different professions – all essential in their own way to a healthy, cohesive, and functioning community.
There aren't that many areas of school life which rely on the generosity of volunteers from the wider community as much as CEIAG (Careers Education, Information & Guidance) and the sheer number of individuals and organisations which support the Careers Team at Ilkley Grammar School to provide students with opportunities and experiences to which they may not otherwise have access is impressive.
As we near the end of this academic year the IGS Careers Team would like to publicly thank all those members of the local community who have supported students to gain experience of life in the wider world. 

Thank you to the following individuals and organisations for supporting the delivery of 320 Virtual Mock Interviews to year 10 students in June 2023:
Ian Mallard, WM Morrisons PLC - Anne Townsend - Peter Shelley, IGS Careers Governor - Steve Mitchell, Greensman Limited - Sally Shelton, Clip n Climb - Richard Palmer, Devonshire Hotel Group - Louise Bailey, Beyondly Global Ltd - Charlotte Davies, Beyondly Global Ltd - Russell Kennedy, Health Education England - Rob Wilson, KPMG - Adam Kelly, Armstrong Watson - Jim Jackson, Independent Health Care Solutions Limited - Emma Donohue, Lloyds Banking Group - Michael Truluck, La Redoute - Catherine Hannam, Learning Inclusion Service-Leeds City Council - Jane Heuston, Burley Park Medical Centre - Victoria Hilton-Green, Harrogate & District NHS Trust - Jack Forman, Deloitte- Jeanette Whyman - Matthew Snow, Matthew Snow Advisory Limited - Michelle Rhodes - The Cellar Trust - Doug Robertson, Irwin Mitchell - Philippa Hayward, Leeds Teaching Hospitals NHS Trust - Paula Drake, Damart
Ilkley Grammar School would particularly like to thank the Devonshire Hotel Group, Armstrong Watson and Beyondly Global who volunteered to support us with Year 10 Mock Interviews for the first time this year having previously had no direct connection to school.
Thank you to the following 21 organisations for supporting Year 12 students to gain Work Experience in 2022-23 (longer term placements):
Abbeyfield Bingley, All Saints Primary School, Ben Rhydding Primary School, British Heart Foundation Shop, Cliffe House, Craiglands Hotel, Guiseley Primary School, ILTSC Gym, Incuto, Melissa Morton Garden Design, Moorfield School & Nursery, Moss & Moor, Outside the Box, Oxfam Ilkley, Robertson Pharmacy, Sacred Heart Primary School, Spooner Industries, Talk Straight, Waltons Fine Furnishings, Windsover Farm, Words and Pictures
Thank you to the following 23 organisations for hosting Post-16 students on Work Experience placements in July 2023
Halliday Clark Architects, Chapel Allerton Hosp, The Senator Group, Broadgate Primary School, Blacks Solicitors, Bradford Teaching Hospitals NHS Trust, St James's Place Wealth Management, Green Heart Gardens, Kingsway Vets, Rivendell, Katie Stone Physiotherapy, Jo Foster Racing, Optima Eyecare, Concentric Design Limited, Muirhead & Associates, Bradford Royal Infirmary, Ideal Extraction Ltd, Teconnex, International Personal Finance, The Hermit Inn, Joze School of Dance, Guiseley School, Hollybush TCV
Finally, Ilkley Grammar School would like to thank the following 242 organisations for hosting 320 year 10 students on Work Experience in July 2023
As well as member of IGS staff, Jo Mitchell, who does the almost super-human job of ensuring the success of all our work experience placements. On a recent visit to IGS a former headteacher and Ofsted inspector said that IGS was the first school they had been to since Covid that had Work Experience back up and running.
| | | | |
| --- | --- | --- | --- |
| Articulate Agency | Craiglands Hotel | Leeds Beckett Uni. - IT Dept. | Shelter |
| 93 Cycles | Dacre Son & Hartley | Leeds Sailing & Activity Cent. | Shoe'Bee'Doo |
| Abbeyfield The Dales | Dale Eddison | Leeds United Football Club | Sign Focus |
| Acrecliffe Stables | Damart | Leeds University | SIPS@Clays LLP |
| Addingham Primary School | Dan's Den | Lexa Hair | Skipton Spar |
| Adept Civil & Structural Consulting Engineers | Davey Driveways | LFW Podiatry | SmartSearch |
| Age UK | Denso Marston | Lishmans of Ilkley | Snooti A Gouti |
| Ahead Partnership | Dept for Work and Pensions | Lord Addingham | Southbrook Accountants |
| Airedale Hospital | Distant Future | LS10 Dental Care | Spoons Tearoom |
| Airvis | DJP Rayner Window Cleaning | LS-TEN | Sporting Influence |
| Alex Bailey Landscape Architect and Garden Design | Drax Power Station | Lumb and MacGill Solicitors | Sportsshoes |
| All Saints Pre-School | DSH Consultancy Ltd | Magpie Creative Comms | St Cuthbert & The First Martyrs Primary School |
| All Saints Primary School | Durapol Ltd | Manor Health | St Wilfrid's Hospice |
| Alpkit | East Morton Primary School | Marks & Spencer | Stanbury Village School |
| Arcadis | East Riddlesden Hall  | Marton Mills Co Ltd | Steeton Primary School |
| Arif Khan International Accountancy | Eden Repair Centre | Masons Campsite | Stif Mountain Bikes |
| Army Foundation College | Esscroft Nursery | MCC Auto Centre | Subrosa |
| Arterius | Express Golf | Menston Primary School | SW & JE Ryder Farm |
| Arundel Travel | Fac. of Life Sci. Bfd University | Milk Bar Café | Swimbrite |
| Ashlands Primary School | Flavour | Mint Velvet | Switch2 |
| Ashlands Veterinary Centre | Floral Dance | Moncaster Const/plastering | Taste Moor |
| Ask Clothing Company | G Hopwood Electrical | Moorfield Sch. Holiday Club | Teledyne |
| Askwith Primary School | Gerard Binks Photography | Moss and Moor | Tesco |
| Assured Data Protection | GH Construction | Muirhead Dental Practice | Tetratech |
| Attic | Grays Builders | Nell Bank | The Entertainer |
| Ayub Solicitors | Grubb | Nigel Akid Bodyshop | The Gin Lounge Hotel |
| Baildon C of E Primary School | Harrison Robinson | Northern Artillery | The Greenhouse |
| Barritt Joinery | Harrison Spinks | Nuffield Health Gym | The Grove Bookshop |
| Ben Rhydding Pre School | Harrogate Theatre | Nursery Rhymes & Jabberwocky Club | The Ilkley Cow |
| Ben Rhydding Primary School | Hawksworth C of E Primary | One Medical Property | The Little Hair Shop |
| Benton Park School | Heavy Metal Gym | One Red Kite Ltd | The Railway Children Nursery and pre-school |
| Betty's Café and Tea Rooms | Hebridean Island Cruises | Oxfam | The Three Horseshoes |
| Bolton Abbey Estate | Henshel Woods Deli/Yoono | Park Place Corporate Finance | The Veggie Café |
| Booths | Hesketh Farm | Park Square Barristers | Thomas Moore Landscapes |
| Bradford City Academy | Hickory House Nursery | PD Plumbing | TPX Impact |
| Bradford City FC  | Hillarys Blinds | Peel Entertainment | Tranmere Park Primary |
| Brawl Agency | Hills Bakery | Pro Point Plastering & Tiling | Trans Pennine Express |
| British Land | Hollingley Farm | Propaganda | TT Electronics Ltd |
| Burley & Woodhead Primary  | Holme Grown Eastby CIC | Puddle Agency | Twisted Tree Joinery |
| Burley in Wharfedale Library | Hoyle Court Primary School | Puffin Pottery | Tyler James Pet Shop |
| Burley Interiors | IC Blue | Quad Design & Display | TYR Law |
| Burley Nursery School | Ilkley Autocare Ltd | Radio Design | Unilever |
| Burley Oaks Primary School | Ilkley Brewery | Raven Staging | UNP Ltd |
| Calvert Lakes | Ilkley Car Audio | Red 8 | Vanilla |
| Candelisa | Ilkley Dress Agency | Ringshaw Developments | Virtual College |
| Cartwright Solicitors | Ilkley Lawn Tennis & Sq.Club | RJT Landscapes Ltd | Waste Not |
| Cat Protection League shop | Ilkley Motor Company | Robin Ellis | Wharfdl' Kennels & Cattery |
| Cavendish Legal Group | Ilkley Town Football Club | Robotas | Wheelbase |
| Charles Prest KC | Ilkley Town Hall | Rolls Royce | Whitewell Developments |
| Chevin Cycles | Inspiration Tree | Rudding Park Hotel | William David Hair |
| Christchurch Café | Ison Harrison Solicitors | Rural Solutions | Windsover farm |
| CJ Harker & Associates | Jaybee Supplies | RW Mortens | Words and Pictures |
| Clarion Law | JR Sports | S & M Motors | Wright Electrical |
| Cliffe House Day Nursery | Kelcliffe Farm Riding School | Sacred Heart Primary School | Wycliffe Primary School |
| Clip N Climb | Kino & Co Ltd | Sarah Siddons & Co Fin. Plan. | Yeadon Westfield Primary  |
| Club Energy | La Redoute | Scope | Yorkshire Aviation Academy |
| CMI Property SolutionsLtd | Learn to Rock Ltd | Sense of Space | Yorkshire Cat Rescue |
| Coffee and Clay, Skipton | Leeds 2023 | SEO Travel | Yorkshire Runner Ltd |
| Cornerstone Café | Leeds Art Gallery | Service 2 | Yorkshire Vets - Thornbury |
IGS would also like to publicly thank our school business partners for their ongoing support of the school:
Cactus IT- Business led IT solutions - Clarke Foley - Clip n Climb - Harrison Robinson Estate Agents - Ilkley Lawn Tennis & Squash Club - Ison Harrison - J Carey Design - LFW Podiatry / Chiropody & Wellness Clinic - Lishman's of Ilkley - Morrisons - Outside the Box - Plus net - Print Crew - Produmax - Sevensun Agency - Shoo - Smart Search - Zenith Car Finance
IGS would also like to welcome Tracey Lowe following her recent appointment to the IGS Careers Team as our full-time, independent Careers Advisor. Tracey joins Associate Assistant Headteacher Vicky Marshall (Careers Lead), Jo Mitchell (Work Experience Co-Ordinator), Alice Farrar (Careers Administrator) and Emily Carter (Inclusive Learning/Careers link) on the Careers Team. To contact Tracey or a member of the team email careers@ilkleygs.co.uk
The Ilkley Grammar School Careers Team is also very pleased to announce the appointment of three new voluntary Enterprise Advisors following the departure of Stuart Hyde who supported the school in this role for a number of years. The new Enterprise Advisors will be an important part of the wider careers team and will be involved in strategic planning as well as the delivery of a Careers Fair in school scheduled for December 2023.
Paul Wintersgill – Paul is currently an IGS parent and a former IGS student. He is a qualified chartered accountant who is now finance director and strategy leader for manufacturing firm MPM, in Bradford. Local to the area, Paul also holds a voluntary director role at Ilkley Town AFC.
Stuart Bond – Stuart is an IGS parent and has worked in various manufacturing industries for over 25 years across the automotive, medical and food sectors. An engineer by education, he is currently working for Nestlé in a UK wide role supporting continuous improvement. He is also an experienced school governor including spells as Chair of Governors at two schools in the region.
Peter Goodman – Peter is also an IGS parent and currently Finance Director of Switch2 Energy based in Saltaire. Throughout his career he has worked with fast growth SMEs and was previously a senior manager for Ernst & Young and later with PwC.
We are looking forward to working with our new Enterprise Advisors and would like to thank them, as well as all our other partners, for giving so freely of their time to support the ongoing development of Careers Education Information and Guidance at Ilkley Grammar School.
With over 300 local businesses and organisations supporting them in partnership with school, as a community we are working together to give our students the best possible insight into the world of work and giving them the freedom to choose a future that is right for them.
Jamie Gutch | Deputy Headteacher: Post-16 & Personal Development
< Back to all news stories